Sobriety Calculator
NOTE: SOME OF THESE LINKS WILL TAKE YOU TO URL'S OUTSIDE OF THIS SITE. PLEASE PRESS THE "BACK BUTTON" ON YOUR BROWSER TO RETURN TO THIS SITE.
Cocaine Anonymous is a Fellowship of, by, and for cocaine addicts seeking recovery. Friends and family of cocaine addicts should contact Co-Anon; a Fellowship dedicated to their much different needs.
NOTE: This GuestBook is not the same as my Serenity Card Shop GuestBook.
Feel free to sign whichever one you want.
I am trying to keep them seperate for a reason.
If an entry concerning this page ends up in my Card Shop GuestBook, I will move it here.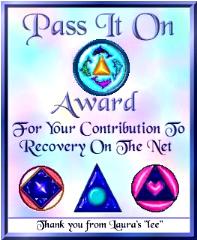 I have worked very hard on this site and I, Thank you, Laura, for this award.
Awarded July 24th, 1999

Causes Home Page Who is a Cocaine Addict? Meetings across the U.S. Big Book Manuscript Windows® 3.x Big Book 1st Edition Windows® 3.x Big Book Help File Windows® 3.x Big Book 95 Windows 95® As Bill Sees It One Day at a Time Twelve Steps and Twelve Traditions Recovery Greeting Cards Serenity Card Shop

Email Me